September 05, 2009 08:22 AM PDT
C'est la fin de B2G (snif snif) MAIS POUR MIEUX ENCORE DONC VENEZ ME RETOUVER SUR MON NOUVEAU SITE MyFreakkyWorld
It's the end of B2G (snif snif) BUT FOR BETTER SO COME VISIT MY NEW WEBSITE MyFreakkyWorld
MyFreakkyWorld : Musiques Alternatives / International / Geek / Urban / Hype / Design / Art / Comics / TV / Ciné / Video Games / Eco-Life / Web 2.0 / e-Market / X-Sports
B2G PodRadio #20 – Hot Diggs 2K9 (part 1)
1) PPP Ft Coultrain – pigeon hole
2) Soil & Pimp Sessions – fantastic planet
3) Mr Scruff Ft Alice Russell – music takes me high
4) 14K – hithatspectations
5) Tanya Morgan – so dam down
6) Pursuit Grooves – too much time
7) Prefuse 73 – preparation's kids choir
8) Finale – one man show (A rival 8 bit remix)
9) dEbruit – look 22
10) Michna – swiss glide
11) Puppetmastaz – so scandalous (Sirius Mo remix)
12) Theophilius London – save
13) Kotchy – check me out my key chains (dEbruit's Keeclac remix)
14) Krazy Balhead Ft Outlines – sweet night (club mix)
15) Tiga – shoes
16) Major Lazer Ft Lexx & Santogold – hold the line
17) Buraka Sound System – Kalemba (Hot Chips remix)
May 11, 2009 08:45 AM PDT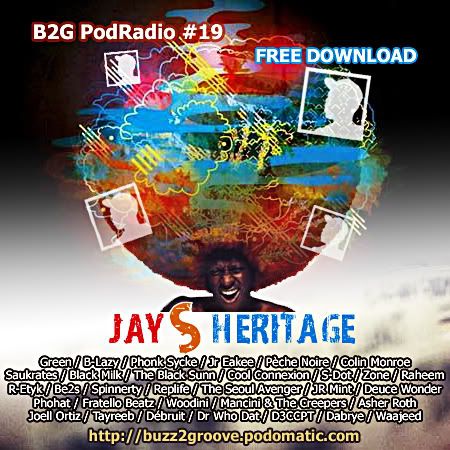 Artwork by Kaalim
Yo,
Désolé de vous avoir tant fait attendre, mais un problème matériel (crash de mon pc) et la mise en place d'un nouveau format pour les playlists de B2G PodRadio, m'ont poussé à retarder la mise en ligne de ce nouveau show.
B2G PodRadio déploie ses ailes en vous proposant une nouvelle formule plus proche d'un vrai show radio avec toujours la même ambition : vous faire découvrir de nouveaux artistes, promouvoir les musiques urbaines et surtout vous pourvoir en bonne musique
Je pose donc ma voix afin de vous donner plus d'information sur ce qui fait bouger votre tête et le tout est mixé au No Name Studio(pour une qualité sonore toujours meilleure) par my man Raheem .
N'hésitez pas à me donner vos impressions sur cette nouvelle formule.
Cette playlist est un hommage à James Dewitt Yancey aka Jaydee aka J Dilla, beatmaker et artsites qui a marqué la musique de ces 15 dernières années (et plus particulièrement le Hip Hop) et qui nous a malheureusement quitté le 10 février 2006.
Plutôt que de vous présenter son travail (déjà fait par beaucoup d'autres sites), j'ai choisi de vous faire découvrir toute une nouvelle génération d'artistes clairement influencés par Jaydee et dont leurs travails en sont l'héritage.
____________________________________________________________
Sorry to have made you wait but a material problem (computer crash) and the preparation of a new format for the playlists of B2G PodRadio, pushed me with to delay the update of this new show.
B2G PodRadio spreads its wings by proposing you a new formula, closer to a true radio show with always the same ambition : make you discover new artists, promote the urban musics and provide you in good music.
I host the show with my voice in order to give you more information on what makes move your head and the whole thing is mixed at the No Name Studio (for a better sound quality) by my man Raheem .
Do not hesitate to give me your impressions on this new formula.
This playlist is an homage to James Dewitt Yancey aka Jaydee aka J Dilla, beatmaker and artist, who marked the music of these 15 last years (and more particularly Hip Hop) and who unfortunately left us on February 10, 2006.
Rather than present you his work (already done per many other sites), I chose to make you discover a whole new generation of artists clearly influenced by Jaydee and whose works are the heritage.
B2G PodRadio #19 – Jay's Heritage
1 - Green – good times we had (me and your music)
2 - B-Lazy – lost beat
3 - Phonk Sycke – basie band
4 - Jr Eakee – croissants chauds
5 - Pèche Noire – cacahuète
6 - Colin Munroe Ft Saukrates & Black Milk – break off
7 - The Black Sunn – black sunn rising
8 - Cool Connexion Ft S-Dot – I speak hip hop
9 - Zone – classic pack (prod by Raheem )
10 - R-etyk aka Skobar – ma vision (prod by Be2s )
11 - Spinnerty Ft Replife – foundation (free dirt mix)
12 - The Seoul Avenger – mr jellys fantastic dream
13 - JR Mint Ft Deuce Wonder – you ready
14 - Phohat – def bounce track 1 (unreleased)
15 - Fratello Beatz Ft Erik Sermon & Marvin Gaye – music (remix)
16 - Woodini Ft Bilal & Common – love it come close (remix)
17 - Mancini & The Creepers – soulcrunk
18 - Asher Roth – the reading
19 - Colin Munroe Ft Joell Ortiz – piano lessons
20 - Tayreeb - koubiak
21 - Débruit - navette
22 - Dr Who Dat aka Jneiro Jarel - stop calling me
23 - D3CCPT - pressure (prod by Green )
24 - Dabrye Ft Waajeed - jorgy
VOTE FOR MANCINI & THE CREEPERS IN GILLES PETERSONS WORLDWIDE TALENT CONTEST!!!!!!
DOWNLOADS / TELECHARGEMENTS
Donwload / Télécharger "France Love Jay – Beat Tape" (Jr Eakee / Green / B-Lazy / Phonk Sycke)
Download / Télécharger "Colin Munroe – is the Unsung Hero"
Download / Télécharger "Formatmag.com and MeLo-X Present – Futurama"
Download / Télécharger "Isaac Hayes Sweat Loops & Smooth Beats by Fratello Beatz"
Download / Télécharger " Woodini – My Soul, My Hip Hop, My Remix"
Download / Télécharger "Stereotree presents Beats Heroes Collection Vol 2 with Tayreeb"
VDEOS
VIDEO => Cool Connexion Ft S-Dot – I speak hip hop
I Speak Hip Hop - Cool Connexion feat S.dot (NYC) / Prod Madden T. from Dijor Seize on Vimeo.
VIDEO => Teaser Débruit – Clé de Bras EP ! OUT NOW
débruit - clé de bras EP / OUT NOW ! / teaser from ease on Vimeo.
VIDEO => Teaser D3CCPT Ft Black Milk
February 11, 2009 10:47 AM PST
Yo,
Primo : Merci à vouscar vous êtes de plus en plus nombreux (aux quatre coins de la planète, de San Diego à Beijhing…si si c'est vrai !!) à écouter ou télécharger les playlists de B2G PodRadio…donc gros BIG UP à vous !!
Nouvelle plongée dans l'univers de B2G pour vous faire découvrir de nouvelles pépites de Groove.
Beaucoup sont retissant aux musiques électroniques car elles sont froides et répétitives mais elles regorgent de styles différents dont la House Music, qui n'est pas représenté que par la musique de David Guetta.
Donc je vous invite dans la deuxième partie de cette playlist à découvrir my « House » celle qui a pris vie juste après l'ère Disco, qui suinte la Funk, qui faisait vibrer le « Paradise Garage » ou les murs du « Loft » et qui vous transporte.
156 minutes de Soul/Funk urbain, savoureux mélange de Broken Beat, de Hip Hop, d'Electro et de House Music.
Toutes ces artistes ne sont que trop peu diffusées sur les grands network donc :
SUPPORTEZ LES ARTISTES DE LA PLAYLIST, VISITEZ LEUR MYSPACE ET SURTOUT ACHETEZ LEUR MUSIQUE
Yo,
First of all : Thanks to you because you are increasingly numerous (on the four corners of the planet, from San Diego to Beijhing…amazing but true) to listen or download B2G PodRadio Playlists….so BIG UP TO YOU !!
New dive into B2G's Universe to make you discover new Groove's nuggets
156 min of Urban Soul/Funk a tasty mix of Broken Beat, Hip Hop, Electro and House Music.
All these artists aren't enough broadcasted by the big networks so :
SUPPORT THE ARTISTS OF THE PLAYLIST, VISIT THEIR MYSPACE AND ESPECIALLY BUY THEIR MUSICS
B2G PodRadio #18
1) 7 Samuraï - marvin
2) The Souljazz Orchestra - the creator has a masterplan
3) MF Doom meets Clutchy Hopkins - track 01
4) El Michels Affair - detroit twice
5) Kokolo - fuss and fight
6) Dézuet sd'Plingrés - petite barbe (Jazzy Lounge skit)
7) The Five Corners Quintet and Mark Murphy - this could be the part of something ( povo remix)
8) Ben Westbeech - nothing else
9) Prefyx - headache (prod by Terem )
10) Eric Lau Ft Rahel - confession lounge
11) Up Hygh - the gift
12) Chief The Beatmaker - track 9
13) P.P.T. Ft Strange Fruit Project - down south girl
14) Domu presents Pete Simpson - ain't no fool
15) Yam Who Ft Christian Fontana - wrap u up
16) Azymuth - amazon adventure ( Jazzanova remix)
------------------- Welcome to my House…Music --------------------
17) Djinji Brown - my beloved
18) 45 King vs Wale - roof (DJ Ayres remix)
19) Raw Artistic Soul Ft Wumni>/b> - oya o
20) Llorca Ft Nicole Graham - nothing else
21) Joe Claussell - git wa
22) Femi Kuti - what will tomorrow bring (Joe Claussell remix)
23) Osunlade - ochuns arrival
24) Erro - rock with you (Osunlade remix)
25) Donnie - Cloud 9 ( Quentin Harris shelter mix)
26) Erykah Badu - bag lady ( Basement Boys remix)
27) Masters At Work Ft Incognito - nights over Egypt
28) Curtis Mayfield - superfly ( Elements Of Life remix)
peace
Fred aka Souljunky.
January 29, 2009 01:27 PM PST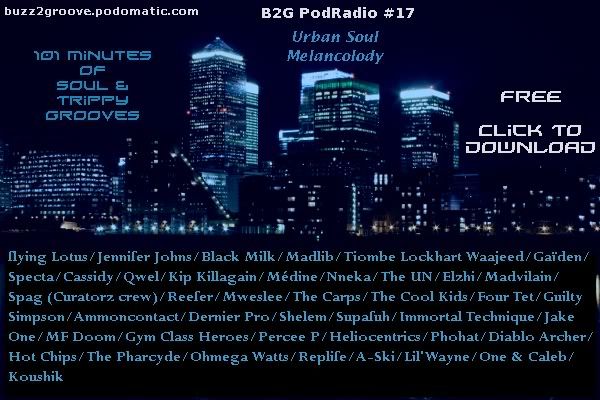 Salut à tous,
Ce mois çi, je vous offre un cadeau de noël (après l'heure) avec ce smooth mix de 101 minutes.
Encore une fois, cette playlist est une vraie alternative à ce que vous entendez sur les ondes hertziennes, un voyage dans les contrées de la musique urbaine dites "Underground".
Certains comme MF Doom, Percee P, Madlib, Immortal Technique ou Guilty Simpson assassinent des beats barrés depuis plus d'une décennie, d'autres en sont les dignes héritiers Flying Lotus, Black Milk, Mwselee, Ohmega Watts ou Phohat, d'autres sont des OSNI (Objets Sonores Non Identifié) à l'instar d'Ammoncontact, The Heliocentrics, Koushik, ou Four Tet et d'autres cultivent leur éclectisme The Carps, The Cool Kids ou Gym Class Heroes.
La France n'est pas en reste dans cette playlist avec Gaïden, Spag, Shelem, Dernier Pro ou Médine.
Le reste est à écouter...
SUPPORTEZ LES ARTISTES DE LA PLAYLIST, VISITEZ LEUR MYSPACE ET ACHETEZ LEUR MUSIQUE
B2G PodRadio #17 - Urban Soul Melancolody
1) Flying Lotus - tea leaf dancers (remix)
2) Jennifer Jonhs - ghetto stories
3) Black Milk - give the drummer sum
4) Madlib Ft Med & Poke - the ox
5) Tiombe Lockhart Ft Wajeed - the overtaking
6) Gaïden Ft Specta & Cassidy - la nuit
7) Qwel Ft Kip Killagain - Agape Rain
8) Médine Ft Nneka - a l'ombre du male
9) The UN - snow
10) Elzhi - talking in my sleep
11) Madvillain - boulder holder
12) Spag - passionerz
13) Reefer - let it go (Flying Lotus remix)
14) Mweslee - jamas jame jamon
15) The Carps Ft The Cool Kids - heaven's gates and hell's flames
16) Guilty Simpson Ft Four Tet - money motivated movements
17) Ammoncontact - chords (part 1 & 2)
18) Dernier Pro - la lumière d'une flamme
19) Shelem - phaz blanche
20) Immortal Technique - caught in the hustle
21) Jake One Ft MF Doom - trapdoor
22) Gym Class Heroes - papercuts
23) The Heliocentrics Ft Percee P & - distant star
24) Phohat - luc mix 2 (unreleased)
25) Diablo Archer - development
26) The Pharcyde - passin' me by (Hot Chips remix)
27) Ohmega Watts Ft Jneiro Jarel - eyes and ears
28) Replife - change 4 a dolla
29) A-Ski - fly Girl 2.0
30) Lil' Wayne - a mili (Symbolic One & Caleb remix)
31) Koushik - bright & shinning
SI VOUS AVEZ AIME….FAITES PASSER !!
Stay Tuned 4 The next episode…
Souljunky
November 09, 2008 11:00 AM PST
Hy,
Visuel choc pour une playlist électro-choquante !! Confrontations de styles et d'univers pour le plaisir de vos oreilles.
En ce début de période hivernale et par ces temps de Crise, voici un petit remontant
Une bonne dose d'Electro, une ration de Disco/Funk, une portion de Hip Hop, une pincée d'épices brésiliennes et le tour est joué.
Vous obtenez un cocktail auditif de choc : ECLECTRONIK
Une came puissante et savoureuse pour vous redonner la banane.
ATTENTION !! A CONSOMMER SANS MODERATION...DONC FAITES TOURNER AUTOUR DE VOUS ET VISITEZ LE MYSPACE DES ARTISTES.
---------------------------------------------------------------------
A shock jacket for an électro-shocking playlist!! Clash of styles and universes for your ears 's pleasure.
At this beginning of this wintry period and by these times of Crisis, here is a small upper.
A good dose of Electro, a ration of Disco / funk, a portion of Hip-hop, one pinch of Brazilian's spices and it's done.
You obtain a shocking cocktail party : ECLECTRONIK
One powerful and delicious dope to get you on top form.
ATTENTION!! TO CONSUME WITHOUT MODERATION... THUS, PASS IT TO YOUR FRIENDS AND VISIT THE ARTIST'S MYSPACE
B2G PodRadio #16 - Electronik
Morgan Geist – a 24K
Karltone – brighter day
Grems Ft Disiz La Peste – carte à puce remix
Metro Area – dance reaction
Qhuit – avec des glaçons
Karlit & Kabok – party
Dizzee Rascal & Calvin Harris Ft Chrome – dance wiv me
Chicken Lips pres Zeefungk – hey what you doin
Les Cautionneurs Ft Gzav – 93km-h
John Legend Ft Andre 3000 – green light
Drumagick Ft Max de Castro – funquiada
Fernanda Porto – So thinha que ser vocé ( DJ Patife remix)
CONCOURS : SI VOUS RECONNAISSEZ DE QUEL FILMS SONT EXTRAITS LES DIALOGUES....VOUS GAGNEZ...TOUTE MON ESTIME lol
COMPETITION : IF YOU RECOGNIZE FROM WHAT FILMS ARE EXTRACTED THE DIALOGUES.... YOU WIN... ALL MY RESPECT lol
October 16, 2008 12:08 PM PDT
"Tenu éloigné du niveau des pros, je reviens agile comme Bébéto" pour vous poster une playlist qui va vous rafraîchir l'âme et désaltérer vos oreilles.
J'espère vous proposer ici, une sélection française de la scène Hip Hop, alternative et brassant le spectre large de cette musique.
Certains sont déjà connus et d'autres méritent de l'être rapidement. "Chacun sa quête, chacun son but, son art des lettres, sa manières d'être..."
Si vous voulez vous réconcilier avec le "RAP", B2G PodRadio # 15 est votre remède...Si non, c'est quand même à écouter
B2G PodRadio #15 - French Flava
1) Souleymane Diamanka - papillon en papier
2) Daz-Ini - Tonton Daz (prod by Jr Eakee )
3) Enz & Antipode - prelude (prod by Astronote )
4) Kwame - Deep
5) Fisto & Antipode - pas de bridge (prod by Astronote )
6) Daz-Ini Ft K-Reen - libère le funk qui est en toi (prod by Jr Eakee )
7) OSK - Catalogué (prod by Tayreeb
8) Jr Eakee - ici tout svend
9) Vin's - juste 2 (prod by Supafuh )
10) Doxa Ft Insight - Street poésie
11) Libre Penseur - ma définition du slam
12) Hocus Pocus Ft Majik Malik - quitte à t'aimer
13) Abd Al Malik - Soldats de plomb
14) Pumpkin Ft Noetika - polaroïd (prod by Supafuh ) SUPPRIME SUR DEMANDE DE L'ARTISTE
15) Oxmo Puccino & The JazzBastards - lipopette bar
16) Grand Corps Malade , Kery James , Oxmo Puccino - A la recherche
17) Le Vrai Ben - l'homme moderne
18) Grand Corps Malade - je viens de là
Stay tuned...
peace,
Souljunky.
PS : SI VOUS AVEZ AIME...FAITES TOURNER !!
March 11, 2008 04:23 PM PDT
Les quelques semaines de latence depuis la dernière playlist, n'ont pas été vaines puisqu'elles m'ont permis de vous concocter ce concentré de groove indépendants pour vous faire gouter à des délices aux senteurs Hip Hop, Jazzy, Soul, Slam et House….Only the good
Les fameux, et proliférant, réseaux sociaux permettent à toute une palette d'artistes de se présenter, de se faire découvrir et de créer une vitrine de leur univers musicaux. Mais pour cela il faut pratiquer un net-digging important et laborieux…votre serviteur, l'a fait pour vous et vous en livre une partie (d'autres sont à suivre car dehors ça fourmille de créativité).
Le myspace de Buzz2Groove, présentant l'univers et à la philosophie de B2G, m'a permis de rencontrer (souvent virtuellement) des talents correspondant parfaitement aux vibes diffusées sur B2G PodRadio.
Voici donc une sélection de talents indépendants donc vous risquez d'entendre parler prochainement….et dont la première écoute se sera faite sur B2G PodRadio.
Faites vivre cette créativité artistique en en parlant autour de vous, en allant découvrir le myspace des artistes et en faisant tourner cette playlist autour de vous !!
PS : retrouvez plus d'informations sur les artistes des playlists de B2G sur http://www.webjam.com/souljunky/buzz2groove (rubrique Artist Library)
1) Raheem – Hommage à ??? (Insturmental)
2) Beus Bengal Ft Yann Crazy Teflu – B2G HHjazz anthem (Instrumental)
3) Breis – Think Big
4) Artik Ft Camille Richard – Remember (Raheem & The French Connection rmx)
5) John Banzaï Ft Claire Keim – Rendez-vous
6) Enz & Gorah – Edifice (Onesk rmx)
7) Le Vrai Ben , Enz, Aïcha, Jr Pikk, Gorah, Artik, Marginal Sosa, Da Pro, Enigmatik, Stamina, Redoks & Sterna – Freestyle
8) Norma Jean Bell – the morning after
9) Sebteix – electrojazz
10) JR Eakee – when you got me
11) DJ Spinna & Phonte – Dillagence
12) Webbafied
, Philemon & Wildchild – EODub connexions (prod by Raheem)
13) Raheem – Truc 2 Ouf
peace,
Souljunky.
February 05, 2008 03:16 PM PST
1460 Téléchargements la semaine dernière !!! donc Merci à Vous
B2G PodRadio continue donc sa route afin de vous distiller ses sélections 100% Groovy, vous faire partager son amour pour les ambiances Soul & Jazzy et vous faire découvrir de nouveaux artistes/groupes.
En cette période hivernale, il est temps de réchauffer votre Ipod avec la dernière sélection de Souljunky
Elle présente les artistes influançant ou gravitant autour de Buzz2Groove (avec une bonne sélection made in France), so Enjoy It !!
B2G PodRadio #13 – Groove Delights 1
1) Sa-Ra – Daylight
2) OSK – Léger
3) Wajeed – Cake (Instrumental)
4) Enz – Bullshit
5) Steve Spacek – Get on down
6) 20Syl – J'suis dedans
7) Wajeed – Clap It Up
8) Jazz Liberatorz Ft T Love – Force be with you
9) Nicolay Ft Black Spade – I am the man
10) Tanya Michelle & Raheem – The soul in this music
11) Dwele – A Pimp's Dream
12) Mark De Clive Lowe Ft Bembé Ségué – State of the mental
PS : SI VOUS AIMEZ....FAITES TOURNER
Allez donc découvrir les univers de ces artistes !!
Sa-Ra : composé de 3 membres, ce groupe originaire de USA délivre la Soul du nouveau millénaire et a déjà prêté sa patte à Bilal, Pharoahe Monch, Dr Dré, Jill Scott, Common, Killer Mike, Goapele, Jurassic 5, NERD et bien d'autres.
Découvrez leur dernier album « The Hollywood Recordings » sortie en 2007
----------------------------------------------------------------------------
OSK : Originaire de Drancy (93), le groupe OSK est composé de deux Mcs : OBROU et Be2s (également Beatmaker du groupe). Voici un groupe qui ramène une touche plus peace et mature dans un paysage rapologique français assez terne et tournant en rond.
Le Maxi « OSK Music » mêle habilement égotrip, story-telling et instru. Le tout est entièrement produit, réalisé, enregistré et mixé par Be2s.
Découvrez le maxi d' OSK " OSK Music "
----------------------------------------------------------------------------
Waajeed : Beatmaker originaire de Détroit (encore UN !!...Damn... Cette ville doit être magique !! lol), il développe autant des productions Hip Hop que R&B mais garde toujours cette touche très J-Dilienne (pour les néophytes
...je parle de J Dilla) avec des ambiances Soul très confinées.
Il a travaillé avec J Dilla, Dwele, Slum Village et est la moitié du duo Platinum Pied Pipers.
Découvrez son dernier album « The War » (2007)
----------------------------------------------------------------------------
Enz : Mc originaire de Tarbes, qui se définis (selon moi) sous la bannières : Jazzy/Soul – Conscient – Original – Indépendant
Une vrai fraicheur pour les oreilles mais aussi de quoi prouver que le Hip Hop en France possède des plumes aux Antipodes de l'esprit racailleux qui y règne trop souvent.
Découvrez son dernier album « Ma Boutique » (2008)
----------------------------------------------------------------------------
Steve Spacek : Chanteur/Producteur londonnien, il fonde le trio « Spacek » (pourquoi faire compliquer quand on peut faire simple lol) et sort un premier album en 2000 « Curvatia » qui défini une Nu Soul / R&B futuriste (très anglais).
Il lance sa propre carrière solo collaborant pour l'occasion avec J Dilla (peu de temps avant sa disparition...R.I.P.), Leon Ware (parolier de renom qui a notamment écris le morceau « I want you » de Marvin Gaye) ou Orin Walters (des Bugz In The Attic).
Découvrez son dernier album « Spaceshift » (2005)
----------------------------------------------------------------------------
20Syl : MC, Beatmaker, et DJ Nantais, Membre en Chef du groupe Hocus Pocus que vous n'avez pas pu rater en ce début d'année
Si malheureusement c'était le cas, il faut absolument que vous écoutiez leur dernier album afin de changez votre vision du Rap/Hip Hop en France.
Preuvent de leur réussite (plus de dix ans sans lâcher...ça paye....Big Up de la part de B2G !!), Hocus Pocus est nominé aux Victoires de La Musique 2008.
Découvrez le dernier album d'Hocus Pocus « Place 54 » (2007)
----------------------------------------------------------------------------
Jazz Liberatorz : en 1999 dans le 77 à Meaux (Town), née une assaciotion de malfaiteurs de Beatmaker composée de DJ DAMAGE, DJ DUSTY & MADHI. Depuis ils délivrent des petites pépites de Hip Hop Jazzy/Soul et séduisent la crème du Hip Hop US tels que Aloe Blacc, Wildchild, Declaime, T-Love, Fat Lip ou encore Fresh Air.
Pour leur 1er premier album, ils claquent l'un des meilleurs albums de cette rentrée 2008, se permettent des invités de haut vol tels que Buckshot, Asheru, Lizz Fields, Sadat X, J Live ou encore Stacy Epps et prouve qu'en France on peut produire un Hip Hop de grande qualité.
Découvrez le 1er album des Jazz Liberatorz « Clin d'Oeil » (2008)
----------------------------------------------------------------------------
Nicolay : producteur Néerlandais, qui s'est fait connaître en collaborant via computer + msn lol avec Phonte et Big Pooh (des Little Brothers) pour former le groupe : Foreign Exchange ....et sortir un disque fumant sans s'être rencontrer
(cela c'est fait après biensur lol)
Découvrez le dernier projet de Nicolay & Kay « Time Line » (2008)
----------------------------------------------------------------------------
Tanya Michelle & Raheem : Raheem le talentueux et versatile beatmaker issue du No Name Studio présente le maxi « Meets The Soul » de Tanya Michelle , la chanteuse Soul originaire de Toronto au Canada.
Un six titre qui vous donnera un aperçu du talent certains de Tanya mais aussi de Raheem qui c'est occupé des instrus. Un doux mélange de Soul, Groove et amabiance Jamaïcaine vous attend sur ce projet. Profitez-en c'est gratuit et de qualité !!
Téléchargez Gratuitement le dernier maxi de Tanya Michelle & Raheem « Meets The Soul »
----------------------------------------------------------------------------
Dwele : chanteur originaire de Détroit (décidément !! lol), vocalement il est pourtant proche du Philly's Sound, il a apporté sa touche (avec 2 albums, « subject » et « some kinda ») au mouvement Nu Soul qui se morfondait un peu sur lui même.
Osant poser sur du broken beats, de la House ou même du Hip Hop, il amène sa fraicheur, son flow et sa superbe voix.
Découvrez le dernier album de Dwele « Some Kinda » (2005)
----------------------------------------------------------------------------
Mark De Clive-Lowe : moitié Néo-Zélandais et moitié japonais, musicien/producteur basé en Angleterre et au premier rang des scènes Broken Beat, Jazz & Soul. Il a été l'artisan, seul ou en collaboration, de plus de 150 sorties notamment sur des labels tels que Masters at Works Records, Verve Records, Impulse Records et collaborant des artistes aussi différent que Lauryn Hill, Jody Watley, Omar, le percussioniste Sammy Figueroa, le bassiste Pina Palladino et bien d'autres.
MDCL est l'un des musiciens/producteurs les plus innovants de sa génération.
Découvrez le dernier album de MDCL « Journey 2 The Light »
January 28, 2008 08:37 AM PST
A l'occasion de la sortie de son nouvel album « Wonder Years », B2G PodRadio se devait de vous faire apprécier le travail de Pat Douthit aka 9Th Wonder .
Retrouvez 9Th Wonder's Soul Land, un mix de 45 min de quelques pépites soulful dénichées par Souljunky pour B2G PodRadio et qui vous donnerons envie d'acheter « Wonder Years » les yeux fermés
La neuvième merveille, pompeux vous dites vous ?? Point du tout, le jeune trentenaire originaire de Winston-Salem en Caroline du Nord a été bercé par la Soul Music et marqué par des producteurs Hip Hop de légende Pete Rock ou DJ Premier.
L'avénement de la musique assisté par ordinateur là donc poussé à confectionner ses beats groovy sur Fruity Loops. Il est alors à la North Carolina University où avec ses collègues de banc Phonte et Big Pooh, il fonde Little Brother et pose les premières briques de son univers Soulful.
En pleine ère de G-Rap stéroïdé, 9Th Wonder et Little Brother ramènent une vibe plus pur, plus mature, plus consciente et chargée de Soul….finalement beaucoup moins stéréotypée que ce que nous arrose HOT 97, MTV Base et autres Skyrocks.
Avec « The Listenning » en 2003 et «Ministrel Show » en 2005, Little Brother sous l'empreinte sonore designée par 9Th Wonder réussie tout de même à conquérir de nombreux fans à travers le monde.
Le travail et la patte de 9Th Wonder sont maintenant reconnus et fortement demandés, ce qui le conduit à travailler avec Jay-Z, Destiny's Child, Memphis Bleek, De La Soul, Murs, Jean Grae, Masta ace.
Dernière il s'est associé au fumant crew Hip Hop, BootCamp Click, pour dealer ses beats jazy-soul à des MCs talentueux tels que Sean Price, Smif'n Wessun ou Buckshot. Résultats : Une tuerie auditive de premier ordre.
Après avoir sorti deux albums solo « Dream Merchant Vol 1 & 2 », il est donc de retour le 29 Janvier 2008 avec son nouvel album « Wonder Years » qui selon lui « Avec ce disque, je ne fais pas que me dévoiler moi-même, mais les gens de ma tranche d'âge. Ce n'est pas nécessairement underground ou overground, vous trouverez de la musique qui vous convient et qui correspond à là où vous en êtes dans votre vie maintenant. C'est ça The Wonder Years signifie pour moi."
B2G PodRadio – 9Th Wonder's Soul Land
1) BootCamp Ft Aaliyah – Nightriders (9Th Wonder remix)
2) Mos Def – Brown Sugar (9Th Wonder remix)
3) Little Brother – The Listenning (prod by 9Th Wonder)
4) Musiq – Caught Up (9Th Wonder remix)
5) Big Pooh – styles (prod by 9Th Wonder)
6) Spectac – Mamasay Mamasa (prod by 9Th Wonder)
7) 9Th Wonder & Pete Rock – Track 1
8) Little Brother Ft Joe Scudda – Lovin'It (prod by 9Th Wonder)
9) Little Brother – Say it again (prod by 9Th Wonder)
10) Nas – Ether (9Th Wonder remix)
11) Bilal – Love it (9Th Wonder remix)
On the occasion of the release of its new album " Wonder Years ", B2G PodRadio owed to make you appreciate the work of Pat Douthit aka 9Th Wonder .
9Th Wonder 's Soul Land, it's a mix of 45 min of some soulful jewels picked up by Souljunky for B2G PodRadio and which shall give you envy to buy "Wonder Years" blindly
The ninth miracle, pompous you say you?? Not at all, the thirty-year old boy native of Winston-Salem in North Carolina was rocked by the Soul music and marked by Legend's Hip-hop producers such as Pete Rock or DJ Premier.
The computer generation of the music pushed him to make its groovy beats on Fruity Loops. He belongs then to the North Carolina University where with his bench colleagues Phonte and Big Pooh, Little Brother puts the first bricks of his soulful universe.
In full era of Steroided G-Rap, 9Th Wonder and Little Brother returns to a pur vibe, more mature, more conscious and charged with Soul...Finaly much less stereotypical than what sprays us HOT 97, MTV Base and Skyrock.
With "The Listenning" in 2003 and "Ministrel Show" in 2005, Little Brother under imprint sound designed by 9Th Wonder conquer numerous fans worldwide.
The work and the leg of 9Th Wonder are now recognized and strongly asked, what leads him to work with Jay-Z, Destiny's Child, Memphis Bleek, De La Soul, Murs, Jean Grae, Masta ace.
Last one he joined the somking Hip Hop crew, BootCamp Click, to push his jazzy-soul beats with talented MCs such as Sean Price, Smif' n Wessun or Buckshot. Results : an excellent auditive slaughter.
After having brought out two solo albums " Dream Merchant Vol 1 and 2 ", he is thus back on January 29th, 2008 with his new album " Wonder Years " which according to him " With this disk, I do not make that to reveal me myself, but people of my age bracket. It is not inevitably underground or overground, you will find some music which is convenient for you and which corresponds in there where you are in your life there now. That's right The Wonder Years are for me ».
Discographie :
- God's Stepson (version remix de l'album de Nas « God's Son »
- …Invented The Remix…(remixes de 9Th Wonder)
- Little Brother / The Listenning (prods by 9Th Wonder)
- Black is Back (version remix de l'album de Jay Z « Black Album »)
- Murs / 3 :16 9Th Wonder edition
- 9Th Wonder / The Dream Merchant Vol 1
- Little Brother / Ministrel Show (prod by 9Th Wonder)
- 9Th Wonder / The Dream Merchant Vol 2
- 9Th Wonder / Wonder Years
peace.
Souljunky
Myspace/Buzz2Groove
January 21, 2008 01:17 PM PST
Hy Peeps,
Avant toute chose B2G vous souhaite une Bonne et Heureuse année 2008…Que celle çi soit pleine de réussite et de bonheur….Pour être sûr de garder ce cap : Ecoutez B2G PodRadio.
B2G PodRadio vous propose un démarrage de 2K8 en mode Deep & Funky avec notamment le producteur berlinois, Henrik Schwarz et sa house beatdown filtré, le secret le mieux gardé (R.I.P) aka Jay Dee aka J Dilla, le MC de Chicago (qui vient de sortir un nouvel album) Common mais aussi 4 Hero et Marcos Valle pour une brazilian touch….Les pépites de la fin sont « sooo Funky »
B2G PodRadio #12
- Henrik Schwarz « Marvin » (B2G Deep Treatment mix)
- Jay Dee « BBE »
- Recloose « Up and Up »
----------------- Two of a kind / Common ------------------
- Common « Dooinit »
- Common « Love is »
-------------------- Two of a kind / Jay Dee ------------------
- Jay Dee « Get Down »
- Jay Dee « Think Twice »
------------------- Smooth Brazilian Way ----------------------
- Marcos Valle « Escape »
- 4 hero « 4hero bossa »
----------------------------- Funky Traxx ---------------------------
- Mandrill « Children of The Sun »
- Femi Kuti Ft MosDef « Do your Best » (B2G extended Treatment mix)
Peace,
Souljunky.
October 31, 2007 06:54 AM PDT
Après de longs mois d'absence sur le web....B2G PodRadio is right back !!!
Le concept ne change pas : Balancer de bons Grooves et vous faire découvrir de nouveaux artistes.
L'équipe de B2G PodRadio c'est un peu étoffée afin de vous fournir les meilleures sélections de tracks possibles et vous sortir les pépites qui vont vous faire vous exclamer d'un superbe :
Oh Damn...c'est quoi ce son de ouf !!! (notre pari sera donc rempli lol)
So n'oubliez pas...stay tuned & Keep the Groove alive avec B2G PodRadio.
Souljunky
B2G PodRadio Crew
-------------------------------------------------------------------------------------------------
Hy Peeps,
Mmmm....l'hivers arrive dans vos chaumières mais heureusement B2G PodRadio redémarre une nouvelle saison et vous apportera la chaleur de ses bonnes vibes.
Pour ma première participation sur B2G PodRadio, j'ai tout simplement décidé de donner une continuité à l'aventure sonore initiés par souljunky, en offrant une suite à B2G PodRadio #10.
Après l'émergence du NewJack, comme pour le Hip Hop, d'ailleurs, les beats se sont ralentis pour laisser plus de place aux voix et faire (re)naître le R'N'B. Par contre, les lyrics sont entrés de plein fouet dans la "Sexy Lover Attitude"...donc des histoires : de teufs, de meufs et de sseuf lol
Donc rechausser vos Pat Ewings, sortez votre blouson Starter des New York Yankees, votre premier baggy et vissez votre casquette Raiders sur votre tête....Mettez cette sélection sur votre lecteur MP3 and Let's Back to the 90's.
Voici quelques morceaux d'anthologie de cette période et qui firent ce déhancher bons nombres de trentenaires actuels, avec notamment certaines des meilleures combinaisons HH/R'N'B de l'époque.
Je vous ai twisté quelques tracks comme par exemple l'une des premières appartions de Jay Z, le "mister duo" de l'époque Maze (qui n'a malheureusement jamais prouvé en solo), le classic de Alfonzo Hunter, l'un des hits de Teddy "New Jack Swing Master" Rilley avec son groupe....enfin le mieux c'est d'écouter.
Goûter donc à ce petit cocktail aux saveurs groovy, préparer mes soins : Jamal SoulDier.
Peace.
B2G PodRadio #11 Back In The Days / 90's Grooves
1. Alfonzo Hunter Ft Keith Murray "Just The Way"
2. Dave Hollister Ft Def Squad "The Weekend"
3. Aaron Hall Ft Redman "Curiosity" ( Marley Marl remix)
4. Horace Brown Ft Jay Z "Things We Do"
5. Yvette Michele "Everyday Everynight"
6. Toni Braxton Ft Foxy Brown "Your Making Me High" (Remix)
7. Brandy Ft Maze "Sittin On Top of The World" (remix)
8. Dru Hill Ft Jermaine Dupri & Da Brat "Sleeping In My Bed"
9. Montell Jordan Ft Slick Rick "I Like"
10. Blackstreet "U Blow My Mind"
11. Da Brat Ft Notorious Big & Kriss-Kross "Da B Side"
12. Busta Rhymes Ft Zhané "It's A Party"
-------------------------------------------------------------------------------------------------
After long months of absence on the Web....B2G PodRadio is right back!!!
The concept does not change : rock on good Grooves and make you discover new artists.
The team of B2G PodRadio have welcome new members to supply you the best selections of tracks and bring out to you the jewells which are going to make you exclaim a magnificent:
Oh Damn, what's that crazy sound !! (Our bet will thus be performed lol)
So not oversight...stay tuned and keep the Groove Alive with B2G PodRadio
Souljunky
B2G PodRadio Crew
--------------------------------------------------------------------------------------------------
Hy Peeps,
Mmmm....winters arrives in your thatched cottages but fortunately B2G PodRadio restarts a new season and will bring you the heat of his vibes.
For my first participation on B2G PodRadio, I simply decided to give a continuity introduced by Souljunky, by offering a continuation B2G PodRadio #10.
After the emergence of The NewJack Swing, as for the Hip-hop, moreover, beats slowed down to leave more place to the voices and make (re)born R' N' B. On the other hand, lyrics entered quite hard in " Sexy Lover Attitude " thus stories : of parties, girls and ass lol
So re-put your Pat Ewings s' shoes, bring out your New York Yankees 's Starter jacket, your first baggy and screw your cap Raiders on your head.... Put this selection on your MP3 player and Let Back to the of 90's.
Here are some anthology's fragments of this period and which made it sway hips of a good numbers of thirty-year old current, with some of the best combinations HH / R' N' B.
Enjoy this groovy flavoured cocktail, prepare with care by myself : Jamal Souldier.
Peace.
June 15, 2007 01:03 PM PDT
Devenu la nouvelle variété Internationale, le R&B a sûrement perdu de son originalité et de sa fraîcheur en étant tourné à toute les sauces...
Les jeunes semblent avoir découvert le R&B (empreint de funk, de Soul et définitevement urbain) avec Destiny's Child, Ciara, M. Pokora (lol), Tragédie (re lol) ou Vitaa (re re lol) mais ils sont loins (pour certains(es) trés lojn) du niveau des précurseurs tels que Teddy Riley, Keith Sweat, Bobby Brown, R. Kelly (si si...dur à croire avec ces derniers albums) , Zhane, Blackstreet, Mary J Blige etc... qui donnèrent ses lettres de noblesse à ce courant musical.
Au départ prénommé New Jack Swing (qui à même donné un film culte : New Jack City....B.O terrible !!!), ce mouvement est une évolution urbaine du funk et de l'ancien Rythm and Blues, empreint de la culture Hip Hop . Taillé pour les dancefloors, il a permis à toute une génération de danseurs de faire leurs armes et aussi de démocratiser le Rap (via les différentes combinaisons entre artistes).
Rythmiquement bien calibré et interprété par des voix d'or (masculine comme féminine), les lyrics quant à eux sont assez simple et accès sur la fête, l'amour et le sexe (Génération Lovers lol).
Découvrez l'histoire de la génèse de ce mouvement sur Fonkadelica
Pour tous les puristes, les nostalgiques mais aussi ceux qui souhaitent connaître les origines de cette musique : Listen That !!
peace,
Souljunky.
B2G PodRadio #10 Back In The Days / 90's Grooves
1. Keith Sweat "I Want her"
2. Bobby Brown "Don't be cruel"
3. Johnny Kemp "Just got paid"
4. Bobby Brown "Ghostbusters II theme"
5. Ralph Tresvant "Money can't buy you love"
6. Bell Biv Devoe "Poison"
7. Redhead Kingpin and The F.B.I. "Do the right thing"
8. Heavy D and The Boys "Now that we found love"
9. Boyz II Men "Motownphilly"
10. R Kelly "She's got the vibe"
Become the new International variety, the R&B certainly lost of its originality and its coolness by being turned in quite sauces...
The young people seem to have discovered the R&B (printed by funk, by Soul and HipHop vibes) with Destiny Child, Ciara, Mr Pokora, Tragedy or Vitaa but you should not forget the precursors such as Teddy Riley, Keith Sweat, Bobby Brown, R. Kelly (so so hard to believe with these last albums), Zhane, Blackstreet, Mary J Blige, etc...Who gave its letters of nobility to this musical current.
At first named New Jack Swing (which straight from given a cult film: New Jack City.... Terrible B.O!!!), this movement is an urban evolution of the funk and former Rythm and Blues, printed by the Hip-hop culture . Cut for dancefloors, he allowed a whole dancers' generation to make their weapons and also to democratize the Rap (via the various combinations between artists).
Rhythmically well calibrated and interpreted by golden voices (male as feminine), lyrics are rather simple and deal with Party, Love and Sex (Lovers Generation lol).
For all the purists, the nostalgic but also those who wish to know the previous history of this music: Ecoutez ça !!
peace,
Souljunky.
May 26, 2007 12:53 PM PDT
Lassé, blazé, voir parfois dégouté même, par le faible échantillon de musique diffusé dans nos médias traditionnels, mais aussi par les choix artistiques plus que douteux de nos chères Maisons de Disque, nous avons décidé d'ouvir une fenêtre sur les alternatives artistiques qui fourmillent de par le monde.
La vibe qui nous guide est encrée dans la SOUL, le FUNK, le JAZZ et par incidence à tout les courants dont ils sont l'inspiration : Hip Hop, NuSoul, DeepHouse etc... (on n'est pas forcément fan des étiquettes d'ailleurs).
Ce qui anime Buzz2Groove c'est essentiellement la passion du Groove Urbain et l'envie de mettre en avant des artistes, groupes, projets, labels (sans frontières biensur) qui sont dans l'esprit de B2G.
Voici donc la première playlist (mais pas la dernière) dont le tracklisting est uniquement composé d'artistes, ou groupes connectés via le Myspace/Buzz2Groove et qui adhèrent au concept de Buzz2Groove .
Découvrez donc des artistes ou groupes que Buzz2Groove à décidé de mettre en avant et qui méritent votre attention, votre soutien pour percer et partager leur musique avec le plus grand nombre.
Lachez des comments sur leur Myspace, faites tourner leur liens (et la playlist) et vous aussi participer au réseau de promotion de Buzz2Groove afin de mettre en avant de jeunes artistes de talent.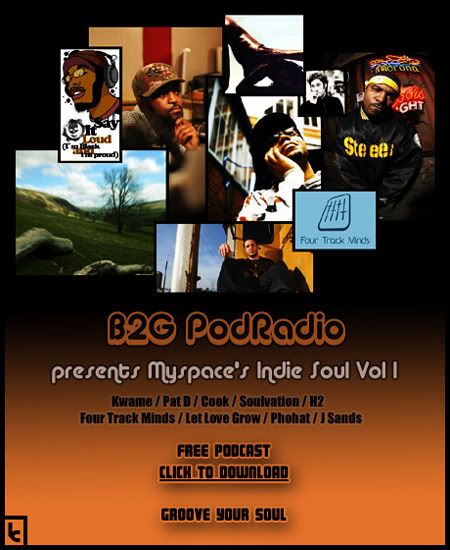 Tired, dulled, even sometimes disgusted, by the weak music sample diffused in our traditional medias, but also by the artistic choices more than doubtful of the majors, we decided to open a window on the artistic's alternatives which teem throughout the world.
The vibe which guides us is inked in SOUL, FUNK, JAZZ and by incidence the currents of which they are inspired : Hip Hop, Nu Soul, DeepHouse, etc...
What animates Buzz2Groove it is essentially the passion of Urban Groove and the envy to put in front of the artists, the groups, projects, labels (without foreign borders of course) which are in mind of B2G.
Here is thus the first playlist (but not the last one) which tracklisting only consists on artists, or groups connected via Myspace/Buzz2Groove and which adhere to the concept of Buzz2Groove .
Discover artists or group that Buzz2Groove have decided to promote and who deserve your attention, your support to drill and share their music with most large audience.
Put some comments on their Myspace, pass the links to your people (and the playlist), talk about on the music forums and participate to the network of Buzz2Groove 's promotion to improve young talented artists.
-------- EXCLUSIVE / BREND NEW---------
Kwame - faster (prod by Rody Rod)
----- Myspace B2G Soul's Connexions -----
Common - 6th sense ( Pat D remix)
Noah King, Nieve & A-Dub - another life (prod by Cook )
Soulvation - soulful love
H2 - things really gettin' better
Four Track Minds Ft Bode Lawal - god's gift
Let Love Grow - precious light
Anguun - c'est écrit ( Phohat Soul Rework)
--- 2 of a kind / J Sands (of lonecatalysts) ---
J. Sands Ft Oh No - Marijuana
J. Sands Ft Oh No - Head Twice
Actualité :
- "Le Bien Ne Fait Pas De Bruit" l'album de Kwame est dans les bacs depuis le 21 mai !!
- La nouveau Podcast de rare-grooves du Soulvation Staff est actuellement en download GRATUIT !!
- "Intelligenti Pauca" le nouveau Maxi de Phohat issu de la série Beat & Discovery est actuellement dans les bacs
Acheter/Buy Maxi sur Just Like Hip Hop
D'autres news bientôt sur Buzz2Groove ...so stay tuned !!
peace,
Souljunky.
May 21, 2007 03:04 PM PDT
Buzz2Groove continue sa recherche dans la galaxie Groove et vous a déniché quelques pépites.
On commence avec du Broken Beat ou Broken Soul (pour les fans d'étiquettes), mouvement né en Angleterre, savoureux mélanges de beat sacadés façon drum&bass, de batucada brésilienne, de funk et de Soul....que du bon !!
Mark de Clive-Lowe en est un fameux représentant, même s'il ne s'arrète pas à ça, et le jeune Diva Saoul (à cause de ses déboires alcolisés) Amy Winehouse se fait relifter par Seiji, membre des Buggz In The Attic.
Respect to the Master : Pete Rock...rien à dire...écoutez !!
Puis place au Hip Hop, quand celui çi cotoie la Soul, c'est tout simplement irrésistible. Big Up au Suédois de Soul Supreme.
Buzz2Groove continues its esearch in the Groove galaxy and picked up to you some jewels.
We begin with Broken Beat or Broken Soul (for the fans of labels), movement been born in England, delicious mix of drum&bass beats, Brazilian batucada , funk and Soul....that of the check!!
Mark of Clive-Lowe is a famous representative of it, even if he dont stop this style, and young Soul Diva, Amy Winehouse is relifted by Seiji, member of Buggz In The Attic.
Respect to the Master : Pete Rock....nothing to say....listen to!!
Then place to the Hip-hop, when that deals with Soul, it is simply irresistible. Big Up to the Swedish Soul Supreme.
B2G PodRadio #8
--------------Broken Soul Evolution ---------------
1. JOL "going down" (Quant remix)
2. Mark de Clive-Lowe Ft Maiya James "the way it goes"
3. Amy Winehouse "take the box" ( Seiji 's Buggin remix)
----------2 of a kind / Pete Rock ------------
4. Pete Rock "a little Soul"
5. Pete Rock "something funkey"
------------- Hip Hop Luv Soul ----------
6. Common "the light" ( Soul Supreme soul & sense rework)
7. Asamov Ft J Live, Cassidy & Wordsworth "standing room"
8. DJ Mitsu Beats Ft Phonte & Big Pooh "feelin alright"
peace,
Souljunky.
May 19, 2007 07:56 AM PDT
Buzz2Groove ne pouvait pas passer à coté du 50 ème Anniversaire du label de Soul sudiste : Stax
Impossible de ne pas rendre hommage à ce mythique label, grand concurrent de Motown, à la griffe péchue d'où sont sortis Booker T & The MG's, Otis Redding, Sam & Dave, The Staple Singers, The Dramatics et bien d'autres.
"L'événement le plus intense de l'histoire de Staxx prend sans doute place dans le quartier de Watts à Los Angeles, une autre communauté soulevée par des émeutes raciales. Quand Stax annonce en 1972 qu'il amène tous ses artistes au Coliseum de Los Angeles pour un concert durant toute une journée, les observateurs prédisent qu'il y aura de la violence. Mais comme le prouve le documentaire Wattstax, leurs prédictions pessimistes ne se vérifient pas. Au contraire, l'événement rassemble 112 000 personnes qui viennent célébrer à la fois le label et la culture afro-américaine".
Source - Vibrations Avril 2007
Buzz2Groove could not cross in quoted by 50th Anniversary of the Soul label : Stax
Impossible not to honour this mythical label, big competitor of Motown, from went out to Booker T and The MG's, Otis Redding, Sam and Dave, The Staple Singers, The Dramatics and many others.
"The most intense event of the history(story) of Staxx doubtless takes place in the district of Watts in Los Angeles, another community lifted(raised) by racial riots. When Stax announces in 1972 that he brings all his artists to Coliseum of Los Angeles for a concert during a whole day, the observers predict that there will be some violence. But as proves him(it) the documentary Wattstax, their pessimistic predictions do not come true."
Source - Vibrations Avril 2007
B2G PodRadio #7 50 Years / Stax Legends
Isaac Hayes "in pursuit of the pimpmobile"
Bar-Kays "whitehouseorgy"
Johnnie Taylor "stop giving people hard luck stories"
Rufus Thomas "itch and scratch part 1"
Rufus Thomas "itch and scratch part 2"
Eddie Floyd "big bird"
peace,
Souljunky.
April 27, 2007 01:03 PM PDT
A l'occasion de la sortie de son nouvel album "Carte Blanche" , le super lyriciste de Détroit, Phat Kat myspace/phatkat , nous livre une mixtape de haute tenue et qui donne envie d'en écouter plus !!
Buzz2Groove vous la livre sur un plateau
peace,
Souljunky
At the time of the exit of its new album "Carte Blanche", the super lyricist of Detroit, Phat Kat myspace/phatkat , delivers a mixtape to us with a high behaviour and which gives desire for listening some more.
Buzz2Groove delivers it to you on a plate
peace,
Souljunky
April 19, 2007 05:35 AM PDT
Afin de fêter les 1500 Téléchargements et les 600 suscribers (merci à tous), Buzz2Groove vous propose une nouvelle playlist qui suinte la SOUL.
In Order to celebrate the 1500 Downloads and the 600 suscribers to B2g podRadio feed (thanks to everyone), Buzz2Groove brings you another new playlist that is wet of SOUL.
B2G PodRadio playlist #6
1. John Legend - lifted (Live)
2. Jaguar Wright - free
3. Anthony Hamilton - ball & chain
---------------------------J Dilla R.I.P. --------------------------------
4. J Dilla Ft Dwele - Dime Piece (remix)
5. Dwele Ft Slum Village - angel (Ohsokoolnyc freakmix)
6. Calvin Richardson Ft Slum Village - you got me high
7. DJ Jazzy Jeff Ft Slum Village - are U ready
------------------------- 2 of a kind / Kev Brown ---------------------
8. Kev Brown Ft Phonte & Oddisee - beats n rhymes
9. Kev Brown- cocoa cow
10. Ashanti Ft Mos Def - unfoolish (9th wonder remix)
11. Alice Russell - munkaroo
12. Quantic - don't joke with a hungry man
13. Soulive - one in seven
14. Recloose- dust (Jneiro Jarel remix)
15. 3 Chairs - 3 chairs theme
peace,
Souljunky.
March 29, 2007 11:53 AM PDT
Petite sélection pour célébrer l'arrivée du printemps et l'aborder avec de bonne vibes bien Groovy.
On commencera par un morceau produit spécialement pour Buzz2Groove, par un beatmaker français (si si, je vous jure lol) tout droit issu de la banlieue de Paris, Raheem, et accompagné par la voix soulfulistic de Rosa.
Ce morceau donne bien la couleur de B2G : Soul, Urbain, Groovy et Freaky
Dédicace à Raheem & Rosa pour ce pur morceau...dont je vous en reparlerai bientôt sur B2G.
Allez donc jeter une oreille aux prods de Raheem :
AVIS A TOUS LES BEATMAKERS, allumer vos MPC et/ou lancer votre Cubase pour me faire vos propres Anthem que je n'hésiterai pas à diffuser...s'il colle avec l'univers de B2G)
B2G Podcast playlist #5
1. Raheem Ft Rosa - Buzz2Groove Anthem #1
----------------------- 2 of a kind / Roy Ayers -----------------------
2. Roy Ayers - life is just a moment part I
3. Roy Ayers - life is just a moment part II
4. JazzEway - daylight
5. Jazzliberatorz - blue avenue
6. Pigeon John - Oatmeal
7. Jamiroquai - feels just like it shoudl (Sa-Ra Remix)
--------------------2 of a kind / Funk Flashback ---------------------
8. Evelyn Champagne King - if you want my lovin
9. Con Funk Shun - i'll get you back
10. Mark de Clive-Lowe Ft Cherie Mathieson - day by day
11. John Beltran - your colors (Yoruba soul mix)


Small selection to celebrate the arrival of spring and to approach it well with good Groovy vibes.
Will start with a track produced especially for Buzz2Groove, by a French beatmaker (Yeah, I swear you lol) straight resulting from the suburbs of Paris, Raheem, Featuring the soulfulistic's voice of Rosa.
This track gives the color of B2G : Soul, Urban, Groovy and Freaky
Cheers to Raheem & Rosa for this pure piece of soulfood… of which I you will speak again about it soon on B2G
Go hear Raheem's Beats :
SHOUT OUT TO ALL THE BEATMAKERS
- light your MPC and/or launch your own Cubase to make me your Anthem that I will not hesitate to diffuse… if it sticks with the universe of B2G -
peace,
Souljunky.
http://b2g.typepad.Fr/weblog
http://www.myspace.com/buzz2groove
March 24, 2007 04:16 AM PDT
L'un des objectifs de Buzz2Groove est de devenir une plateforme de promotion artistique et ainsi permettre aux artistes, beatmakers, musiciens, et labels de se connecter pour faire avancer le Groove
ntrer vOne of the objectives of Buzz2Groove is to become an artistic platform of promotion and thus to allow the artists, beatmakers, musicians, and labels to connect itself to advance Groove; -)
Come on Buzz2Groove http://b2g.typepad.fr/weblog
B2G est fier de vous présenté, DJ Hen Boogie, ce beatmaker qui "ne voit pas la musique comme un genre" et qui "essaye toujours de se dépasser et de surprendre l'auditoire".
Donc dites nous ce que vous en pensez et si vous voulez le booker pour un show ou si vous etes intéréssé par ses prods, contacter nous buzz2g@gmail.com
B2G is proud to presents you, DJ Hen Boogie, this beatmaker who "don't think about music as genre" and that "always try to challenge not only myself but the listeners".
So tell us what u think about and if you want to book him for a show or if you are inerest to his productions contact us at buzz2g@gmail.com
B2G presents DJ Hen Boogie
1. DJ Hen Boogie Ft Cadence (of Raw Produce) "listenagain"
2. DJ Hen Boogie Ft Dem-One "what's good with"
3. DJ Hen Boogie Ft Jeni Fujita "every likkle thing"
4. DJ Hen Boogie Ft Jeni Fujita "have you ever been"
peace,
Souljunky.
http://b2g.typepad.fr/weblog
http://www.myspace.com/buzz2groove
March 11, 2007 11:53 AM PDT
Hy,
Voici donc une nouvelle playlist afin de vous plonger dans un somptueux nuage de Groove.
Here is a new playlist in order to plunge you in a sumptuous cloud of Groove.
B2G Playlist Podcast #4
1. Musiq Ft Aaries "forthenight"
2. John Legend "live it up"
3. Goapele Ft Soulive "romantic"
4. Coolys Hot Box "over and over"
5. Aloe Blacc "Dance for life"
6. Domu Ft Alexander "wont let it go"
7. Beatfanatic "raw"
8. Mr Scruff "get a move on"
9. Moodymann "the thief that stole my sad days"
10. Larry Heard "another night"
Plus de Groove sur Buzz2Groove
http://b2g.typepad.fr/weblog
http://www.myspace.com/buzz2groove
News, Reviews, Videos, Podcasts, etc...All about the GROOVE
peace,
Souljunky.